Three bedroom, one bath home with garage located at 6808 Wagonwheel in Killeen. $550 per mo with a $400 dep. Has large fenced in back yard. Will be available Aug 1, 2000

Click image for temporary accomodations

Use this button to find areas on the map.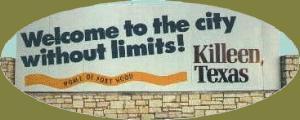 Killeen Chamber of Commerce
Rent Rangers makes every reasonable effort to keep our information current on our page. If you do not see a property previously seen it is most likely rented. We update our page on a real time basis. We extend cooperation with landlords, and leasing agencies in our area so please do not hesitate to ask us to act to assist you in locating a home in our area.